Red Alert Mobilization - Halt Nuclear WWIII Drive: Abolish New Goebbels Propaganda Ops
By Anastasia Battle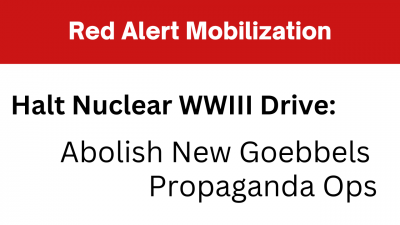 A New Cuban Missile Crisis?
Overview
The civilization-ending danger of nuclear devastation is greater than at any moment in human history. But telling the truth is forbidden. The Ukrainian Center for Countering Disinformation and the Myrotvorets ("Peacekeepers") websites publish hit-lists of supposed propagators of Kremlin propaganda, labeling anyone who opposes the reckless and irreversible plunge into world war as a Putin puppet.
Will this assault on free speech be defeated?
Join Sen. Richard Black, Helga Zepp-LaRouche, Graham Fuller, Ray McGovern, Diane Sare, Eva Bartlett and Mira Terada on Thursday, October 6 at 10am eastern for a Executive Intelligence Review press conference, "We Will Not Be Silenced! Speaking Truth in Times of War."

It is not in a time of peace, but in times of war, such as now, that the right and duty to tell the truth most matter. Names continue to be added to the now-infamous Ukrainian "kill lists." Journalists continue to suffer injury, death threats, harassment and ostracism. A few elected officials and others have spoken out, but the United States Congress and parliaments of Europe have been mute. People in the trans-Atlantic nations ask, "Why are we spending tens of billions we don't have in a war that we don't want?"And with the Nordstream pipeline explosions, credibility of the political elites is at an all-time low.
It is a badge of honor to be listed with the Truth-tellers on the "kill lists." Join us Thursday, Oct 6 to hear the truth that others fear to state, so that we might join together and end this war madness before it ends us.
Neo-Nazi Attacks on Free Speech
What are Myrotvorets / the CCD?
Defending Freedom
Responses from around the world to the Ukrainian Center for Countering Disinformation and the myrotvorets.center.
Sign Up to Abolish New Goebbels Propaganda Ops
Watch an Activist of LaRouche Candidate Diane Sare Confront Senator Gillibrand