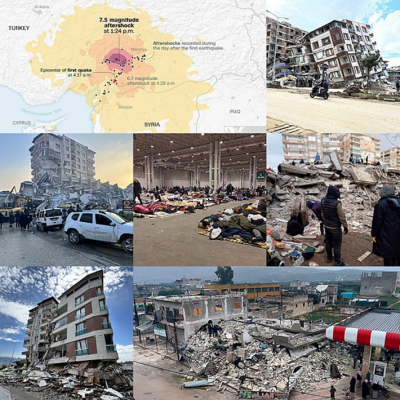 In the wake of massive earthquakes, sanctions against Syria can no longer be tolerated. Nor can we allow U.S. troops to stay in Syria in an "undeclared war." Atrocities are being committed against the Syrian people and its ancient culture by our government.
An avalanche of emails, calls and visits to U.S. House and Senate congressional offices is required over the next 14 days, Feb. 28 to March 17, to staunch a humanitarian disaster of already "catastrophic" proportions in Syria now compounded the earthquakes.
Two things must happen:
1) U.S. troops must be withdrawn from Syria, and
2) all sanctions must be lifted if we are to be human in the face of the decimation of Syria and its people in the aftermath of the earthquakes and 12 years of war.
1) On Feb. 21, U.S. Rep. Matt Gaetz (R-FL) introduced a Resolution under the War Powers Act to "remove United States Armed Forces from Syria." Congress "never authorized" participation of "U.S. Armed Forces in Syria," and "The U.S. is currently not in a war with or against Syria, so why are we conducting dangerous military operations there?" Gaetz said. The Gaetz resolution, if passed, mandates withdrawal of our troops within 15 days, and it must be acted on within 18 days of its introduction. It was officially docketed as of Feb. 25, thus the urgency. Demand your elected officials support this Resolution, H. CON. RES. 20.
U.S. Rep. Gaetz hopes his resolution will win the approval of both Republican and Democratic colleagues, telling one media outlet, "'One of my great disappointments in the 118th Congress is that people I thought were anti-war Democrats seem to be consumed, have become cheerleaders for our armed conflict,'" Gaetz said. '"The Squad" used to be anti-war. Now they are waving their Pom Poms for NATO. And so, I am looking for where the anti-war coalition resides in Congress.'"
2) On Feb. 17 a call, National Faith Organizations urge the United States to lift sanctions on Syria and expedite humanitarian assistance to facilitate earthquake response," was issued by 16 faith organizations across the religious spectrum. It asks "the Biden administration and Members of Congress to affirm the dignity of all persons by lifting sanctions, continuing diplomacy, and sending aid to those most affected in Türkiye and Syria." Demand your congressional representatives act to lift all sanctions on Syria.
At the Feb. 23 Schiller Institute forum, Syrian Sanctions Must Be Lifted!, guest speakers with first-hand knowledge of on the ground hardships which Syrians have and do face, painted a very bleak picture. Alleviation of the lack of water, electricity, homes, clothing, food supplies can only be adequately addressed with a lifting of the sanctions and an end to the U.S. occupation. Before the earthquakes, sanctions and war, 90% of the Syrian population were forced into poverty, and enforced by U.S. occupation of Syria's oil and wheat producing regions. A seasoned speaker surmised some in the West are using the devastation to "kick-start" an internal war of terrorist groups, while limiting which border crossings allow aid through. A combination of sanctions in the wake of an earthquake, and the occupation, along with support and arming of the discredited White Helmets, which is to say, al Qaeda and ISIS, is smothering Syrians.
This atrocity cries to Heaven for resolution and intervention. Demand U.S. elected officials withdraw troops and end sanctions to save the Syrian people and culture.
Join this mobilization: get maximum activity to hit Congress from all sides – direct calls, do meetings on Capitol Hill, meet with the district offices in your area, write letters to the editor, mobilize church and other institutions, etc.
The Capitol Hill phone number to reach all offices is +1 202-224-3121.