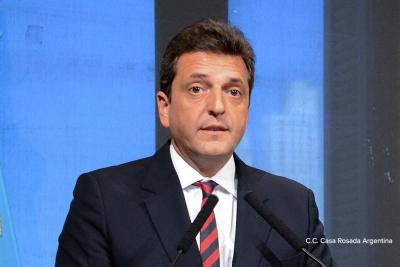 May 31, 2023 (EIRNS)—During a meeting in Shanghai today with executives of the Tsingshan Holding Group, Argentine Finance Minister Sergio Massa reported that he will announce on June 2 from Beijing a new arrangement whereby Chinese companies may invest in Argentina in yuan, bypassing the dollar system and any third party triangulation that has existed to date for both trade and investment.
Massa will make this announcement before an audience of 40 of the most important Chinese companies that invest in Argentina, where he will explain it in greater depth. According to details available so far, Chinese companies can set up yuan accounts in the Argentine Central Bank, avoiding transactions involving dollars altogether. A spot and futures market in yuan has already been established.
The earlier plan being worked on by Presidents Lula of Brazil and Alberto Fernández of Argentina, to have the BRICS New Development Bank backstop trade in local currencies between the two countries, and thereby relieve some of the extreme pressure being imposed on Argentina's foreign reserves by the IMF, ran into problems—both technical and political—at the ongoing NDB Board meeting in Shanghai. Argentina's state news agency Telam reported today that the new mechanism to allow direct investment in yuan will contribute to the "de-dollarization" of financial operations, and it will also help to protect the country's foreign currency reserves.
China's Commerce Ministry reports that Argentina currently registers fewer imports from China than it actually imports due to fraudulent foreign trade triangulation operations carried out through Montevideo, Uruguay and Uruguayan companies that operate in the U.S. state of Florida.
These operations "steal our foreign reserves," Massa said, announcing that his ministry intends to hire law firms in Florida to prosecute the Uruguayan firms involved, which also trade on Wall Street. Putting an end to these fraudulent operations, he said, will mean that China will become Argentina's number-one trade partner, replacing Brazil.