by: Harley Schlanger
Dec. 2—Two events attended by leaders of the NATO/TransAtlantic military bloc on November 30 exposed the dangerous delusional thinking -- which asserts that Ukraine is winning and Russia losing -- which underlies the commitment to extend the present war in Ukraine to a "permanent war."  This was the consistent theme of the warlords who gathered at the NATO Foreign Ministers meeting in Bucharest, and was reflected in remarks made to European Union bureaucrats by European Council President Ursula von der Leyen, who called for convening a "war crimes tribunal" to try Russian leaders, and advocated using the money illegally seized from Russian bank accounts as a reparation fund to rebuild Ukraine.  At both events, the overtly hawkish language made a mockery of their self-conception, that they are the "good guys" who are acting on higher principles, rather than a criminal gang wielding military might to crush opposition to their Unipolar Order.  This came across clearly when Von der Leyen snarled, in answer to the unspoken question of how can they use illegally seized assets of another sovereign state, "We have the means to make Russia pay."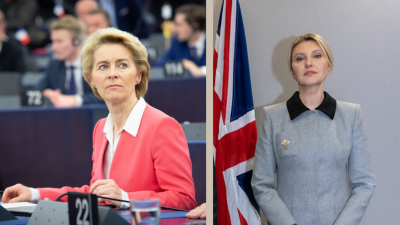 Amidst the self-congratulations expressed at the NATO summit was the assertion that Russia has been seriously "weakened" by the war, and that if NATO remains united, and willing to destroy the living standards of their own populations to sustain an unending flow of weapons into the hands of Ukraine's "freedom fighters", that victory will assured.  And that the goal is not merely military victory, but vengeance, as stated by Ukraine's first lady Olena Zelenska, who told British parliamentarians in London, that "military victory" is not enough: "Ukraine needs justice," which can be assured only by establishing a "Nuremberg-style tribunal" to prosecute senior Russian officials.  She called on British officials to lead that effort.    
 
Lost in the triumphalism of these utopian war hawks was the report released last week that twenty of the thirty NATO members have exhausted their supply of weapons, and that there is continuing resistance among the larger members, including Germany, France and Italy, to deplete their armories for the sake of the war.  Undaunted by such logistical bottlenecks, the Biden administration has pledged nearly $40 billion more in aid, while the U.K. will provide an additional 3+ billion Pounds, despite the accelerating collapse of living standards in that country.
Utopian Talking Points from the U.K.
General Mark Milley, chairman of the U.S. Joint Chiefs of Staff, whose comments on November 9 that there may be a window for peace talks in Ukraine led to sharp denunciations from numerous NATO war hawks, amended his remarks a week later, to get in tune with the chorus of those attacking him.  What he meant, he said, is that the Russian military is "really hurting bad," while Ukraine has achieved "success after success."  This show of Russian weakness and Ukrainian strength opens the possibility that there could be a "political solution", which would include an end to the war by a withdrawal of Russian troops from Ukraine.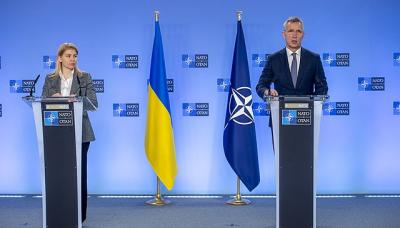 This "self-correction" by Milley conforms to the NATO line that the war is being won by Ukraine, and that Russian forces are in disarray and President Putin's popularity is collapsing.  What is therefore necessary, according to NATO General Secretary Stoltenberg, is to maintain NATO unity, so that flows of weapons into Ukraine can continue.  This wishful delusion was a central "talking point" of British officials in the lead-up to the NATO session.  It was echoed by former British Defense Secretary George Robertson in a November 18 op ed in the Economist, in which he accused the West of being "complacent", demanding that NATO must go to a "war footing....Russia is at war with us," he continued, "why are we not defending ourselves as if we are under attack?"  It is necessary, he concluded, that war-time austerity measures are needed: "...people must sacrifice through the cost of living in particular."
 
This same theme was sounded in an November 24 speech by current British Defense Secretary Ben Wallace, who argued that "it's go-time for Ukrainian counter-offensive."  Russia is weak, and losing -- it "would be in Ukraine's interest to maintain momentum throughout this winter."   The same war party line was enunciated by UK Prime Minister Sunak on a hastily-arranged pilgrimage to Kiev, for the mandatory photo op with "war hero" Zelensky; and by James Cleverly, the Foreign Secretary, who told his Ukrainian counterpart, "We've got your back....Our support will continue as long as it takes."  None of these fantasy-ridden assessments seemed to take into account that much of Ukraine has been plunged into darkness, while its transportation and communication infrastructure, vital for the war effort, have been badly damaged -- all accomplished before an expected renewed Russian offensive in the coming weeks.
 
While they were speaking of providing an increase to bring the UK's total in weapons aid to Ukraine to nearly 7 billion Euros since January 2022, President Biden announced a package of close to $40 billion more in military aid from the U.S.  Asked about this commitment to continue the fighting against Russia to the proverbial "last Ukrainian," Schiller Institute leader Helga Zepp-LaRouche said that this proves that these war hawks believe "that more weapons to Ukraine will lead to peace, but the opposite is the case."  She pointed to the devastation of Ukrainian infrastructure by Russian missile attacks, which has made the situation in Ukraine "quite desperate."
As for the "Democratic Heroes" of Ukraine?
In mild contrast to the fake cheery camaraderie on display at the Bucharest summit was the nasty blood-curdling battlecry emitted by Oleksiy Danilov, Secretary of the National Security and Defense Council at the Kiev Security Forum.  The Kiev gathering was attended by many NATO luminaries, including retired U.S. Generals David Petreus and Wesley Clark, and hard-core War Hawk Frederick Kempe, CEO of the Atlantic Council.
Danilov insisted that the Russian Federation "simply must be destroyed so that they cease to exist as a country within the limits in which they exist…. They are just barbarians. And when you say that we should sit down at the table with these barbarians and talk about something, I generally think that it will be inappropriate."
He continue, in an unhinged rant: "I consider Hitler and Putin to be Siamese twins … they are similar people…. We are different, we have nothing to do with you. You are Muscovy, which was only on its territory, you are thieves who constantly stole someone's history. You constantly demand something, but you are not at all worthy of anyone in the world communicating with you."
Pro-War Narratives versus Reality
While Danoliv's screeching has a smell of a "Hitler in the bunker" mentality, it is not a big jump from this to the self-reinforcing narratives and delusional statements issued by leaders such as NATO General Secretary Stoltenberg and von der Leyen.  Zepp-LaRouche's assessment concurs with that of actual U.S. military experts, as opposed to that of the cheerleading from military and intelligence officials tied to the "Military-Industrial Complex," for whom war is a business proposition; and from those speaking for the collapsing political and financial financial establishment, who wish to significantly weaken Russia due to its leadership of nations seeking a new strategic and financial architecture, outside of the control of the "Sole Superpower."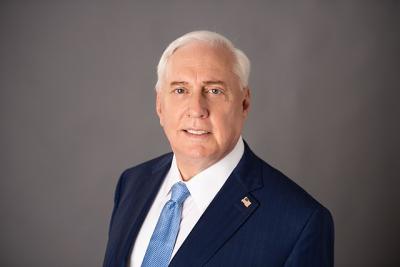 One of those experts is retired Col. Douglas MacGregor, who in daily interviews points to the severely damaged energy infrastructure of Ukraine, which has been hit by barrages of Russian missiles, as fulfilling one objective of the Russian operation.  The Russians intend to undermine Ukraine's ability to wage war, he said.  The attacks on Ukraine's power grid, railway hubs, fuel depots, bridges and command-and.control centers are accomplishing this.  The deployment of fresh forces by Russia, he emphasized, will allow them to cut supply lines from Poland, leaving Ukrainian troops cut-off and vulnerable, subjecting them to capture or being killed.
 
Retired Col. Daniel L. Davis, a senior fellow for Defense Priorities, offered a similar assessment.  He spoke of the Russian intention to close down the two supply corridors for Ukraine's troops, from Poland in the west, and from Kiev.  With these corridors closed, it "would be nearly impossible for Kiev to sustain wartime operations for more than a few weeks."  He said he believed the deployment of an additional 200,000-plus Russian troops would be able to accomplish that. 
 
Former U.N. weapons inspector Scott Ritter scoffed at the idea that Russia wants to negotiate due to weakness, saying this is completely false, that Russia has been willing to negotiate from the beginning.  Since President Zelensky, under NATO pressure, is refusing to negotiate, Ritter insisted that Russia is prepared to crush Ukraine.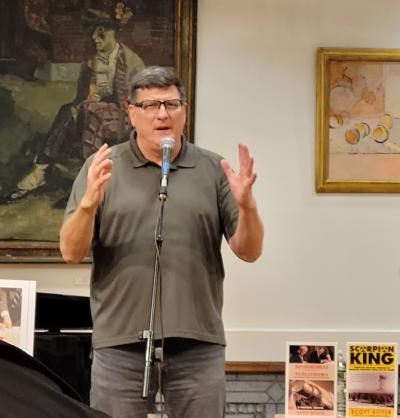 Ritter presented a devastating counter to Stoltenberg and others in a December 1 interview, in which he shredded their arguments and exposed their sophistry: "Ukraine will never be a member of NATO, ever. Never. Anytime Stoltenberg or anybody alludes to this, it's purely a political point,...They're trying to score political points against Russia by saying that the door is always open, that Russia doesn't get to determine who can or cannot be a member of NATO, that there's no such thing as a Russian sphere of influence. That's why they said that. But Russia's proving the exact opposite, that Ukraine is in its sphere of influence and Russia will dictate the future direction of Ukraine. And the fact is, if this war continues, Ukraine will not be a viable sovereign state at the conclusion of the conflict."
If these three experts are right, how will NATO respond?  Given that reports in recent days point to the lack of ammunition and military production capabilities of NATO members, there is no viable option short of full-scale military build-up, to enable direct involvement of NATO forces -- with a danger of escalation, by intent, or accident  to nuclear war -- other than to negotiate with Russia, which NATO has remained unwilling to do since the western-run Maidan coup in February 2014.